Simplified Squarespace web design for bloggers, small business owners, and creatives.
Your website is important.
It's the first introduction to you, your business, your work. So you've got to make sure you get it right.
Your site should be reflective of you and your business and also of the important work you're doing in the world.
And equally as important, you've got to be able to use your website. And so do your customers.
My goal is to make the process of designing and
building your website as simple as possible.
I specialize in working closely with my clients to ensure their online presence closely matches their businesses and personality while appealing to their potential clients.
What's included?
Building a website with me is a highly collaborative process. You and I will work closely together to ensure that the branding and function of your website is a great representation of you and your brand to potential customers.
Brand development (if applicable). Includes: mood board, logo, colors, fonts, and other visual elements

Branded Squarespace website

Live video Squarespace training (with recording)

Two weeks of follow up website support

Assistance with connecting newsletter/email list

Complimentary access to my Squarespace Basics course (coming soon!)
Web design projects start at $1,750 USD.
Ready to get started?
Yay! I'd love to help you develop a site that feels good and represents your business well :)
I'm currently booking projects for Fall 2018. Contact below to get started!
Web Design Client Portfolio
I'm working on an updated and snazzy way of presenting my portfolio on my site, so a visual portfolio is coming soon!
In the mean time, please check out the links below of a few of my clients' sites.
The following Squarespace websites are posted with express consent from my clients.
About this project:
Patrick King had an existing website for his growing financial consultancy business, but wasn't in love with the layout and feel of his site. The original site was more of a plug and play version, where a pre-determined template had been used and his business information plugged in. He needed a site that would appeal to his target clients (baby boomers) but was also fresh and easy-to-use for anyone who visits the site. His goal is for his site to serve not only as a vessel for gaining clients, but also a trusted resource for sound financial information.
I was about six months into the launch of my business and, while my site was 'okay', something about it did not sit well with how I wanted to position my business.

Unfortunately none of the website experts that I talked with about fixing it made any damn sense to me. "Blah, blah blah…" Yes, keywords are important, but stuffing is for turkeys.
And then one day, a friend introduced me to Becky. At this point I was suspicious of all web designers and men wearing trench coats. But when we talked for the first time, she spoke to me in English - not HTML! She was the first person who actually LISTENED to me about what I wanted from my website. BAM! I hired her on the spot.
Here's the thing - she actually worked with me to create the website that I envisioned. But she also proactively solved a few technical problems on the back-end that I didn't even know I had. Not only did I finally get a website that I loved, but Becky made my life easier in the process. When was the last time that happened to you? And on top of that, we had fun in the process!
I absolutely recommend Becky and she is my first call for any technical assistance in the future. Except maybe don't hire her too much so she is available for me in case that I need her to help me with something first."
- Patrick King, Transformative Financial
Want to have Patrick's website building experience?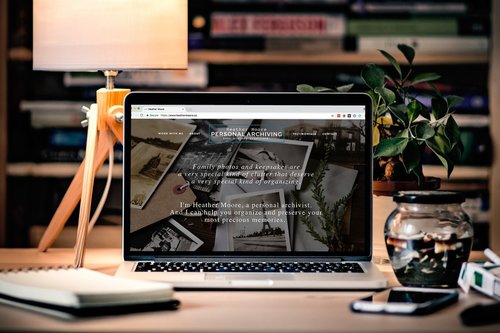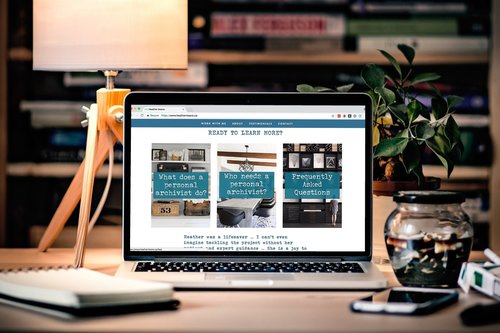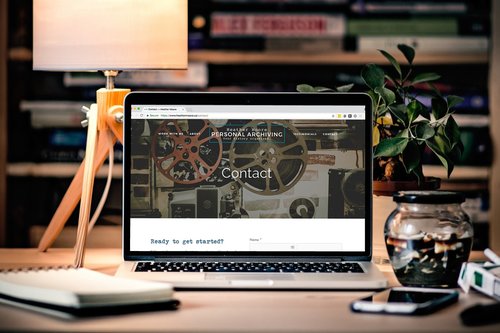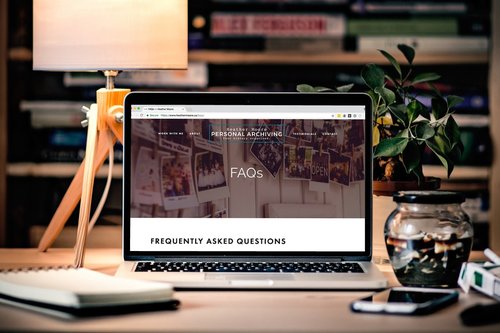 About this project:
Heather and I worked together to develop a simple logo and branding that conveyed the work that she does while also matching her personality. She's a personal archivist, but that term doesn't inherently explain what that means, so we focused on highlighting the different media she works with on her site. It was crucial that her site be easy to navigate as well as representatative of the work she can do for her clients.
"I was referred to Becky by one of her clients, Kacy Paide, who raved about her. I was not disappointed.
Working with Becky on my website was a joy from start to finish! She was always clear, helpful, professional, creative, and very easy to talk with throughout the whole process of designing and launching my site.
I felt she really heard and incorporated my vision, ideas and any changes, even when I wasn't sure if I was describing them properly. It was also my first time working with someone virtually, online, and yet somehow, it felt like we might as well be face to face.
Becky knows what she is doing and is great at what she does! I am so happy with my website and would not hesitate to work with Becky again in any capacity. I recommend her wholeheartedly!"
- Heather Moore, Heather Moore Personal Archiving
Are you ready to build a website that truly represents you?
Live in Rhythm with Kerrie Martin-Schur
About this project:
Kerrie has been in business for ten years as a holistic health coach and yoga instructor, but never had a branded website! She also recently moved across country and is reestablishing her business in a new place, so she needed a site and branding (including logo) that would serve as a introduction to her business and the new local clientele.
It was a pleasure working with Becky on my new website!

I'm thrilled with the overall flow, layout, and design of my site thanks to her dedication and capacity.

I most appreciated that she spent time getting to know me and my offerings in order to create a website that best reflects my energy and brand. I highly recommend working with her!
- Kerrie Martin Schur, www.liveinrhythm.com